Southland Collie RescUe
Southern CaliforniA
WHO WE ARE
Southland Collie Rescue, Inc. (SCR) is a non-profit, 501c, all-volunteer group that rescues Collies in Southern California.
Adoptable collies
We adopt our collies into Southern California homes only. If you live outside Southern California, please see The Collie Club of America's Rescue List for a listing of Collie Rescues by state, where we hope you'll find the right Collie Rescue. Southland Collie Rescue (SCR) reserves the right to refuse to adopt an SCR dog to any person for any reason.
volunteer
SCR is always in need of dedicated volunteers. Midsummer through the end of fall is the time our volunteer need is the greatest, especially foster homes. If you'd like to learn more about welcoming a rescued collie into your home (we hope you will!), go to our contact page. You'll then see a list of our Area Coordinators, with contact information for each one.
DOnate
Since our mission is to rescue every Southern California collie, we need your monetary contributions. There is no better way to make a difference in a collie's life than donating to SCR. Your donations go a long way in supporting our efforts to rescue and take of collies during those transitional stages in their lives. Make sure to add SCR as your non profit of choice on Amazon Smile and Ralph's/Food For Less! Every little bit helps!
Cafe PRess Store
Be sure to check out our Cafe Press, an online store featuring iPhone and Galaxy cases, 2019 collie calendars, collie cards, collie journals, collie gifts, collie pillows, SCR logo apparel, SCR logo merchandise, collie bags and totes, aprons and kitchen ware, and more. Proceeds go to supporting and sustaining SCR in our efforts to rescue collies and find them happy homes. Make sure to get to Cafe Press from OUR site in order to guarantee proceeds go to SCR!
GREAT FAMILY PETS
Eager to please their owner and often energetic, collies are medium sized herding dogs. Collies make great family pets. Though you may often find collies to be family pets, some collies have remained as working dogs, used for herding cattle, sheep, and other livestock. Collies are so intelligent, that people will say you can teach a collie almost anything. If you want the best out of your friendship with a collie, look for things to do that keep you both active.
SOCIALIZATION
Proper socialization is essential for collie puppies. Social puppies are typically not afraid of meeting new people or experiencing new places outside of their homes. As a result, collies are much easier to train and therefore, live alongside.
Want to teach your collie family manners? Enrolling your collie puppy in a training class is one good way to provide some of the basics when it comes to obedience and socialization.
positive reinforcement
When training, collies respond best to positive reinforcement. Collies are very in touch with their owners' emotions so when training, be sure to stay positive. A negative reaction during your collie's training can cause a fearful dog. But never fear! Collies love training and have been known to be easy to train because they are very smart and aim to please their owners.
HERDING INSTINCT
Collies are herding dogs. For a collie, it is natural to try to round up moving things, including other animals and children, vehicles and bicycles. It is best to discourage this behavior unless you will be teaching your dog to herd properly. Collies can get pushy when trying to herd thus frightening people, especially small children. A collie may bark and even nip when the herding instinct is aroused. While this isn't aggressive behavior in a collie, it looks pretty aggressive to the one being herded.
To stop your collie from herding behavior, spend some time working with your dog on a leash until you have complete control. Do not allow your collie to believe that it's acceptable to exercise their instincts outside of your control.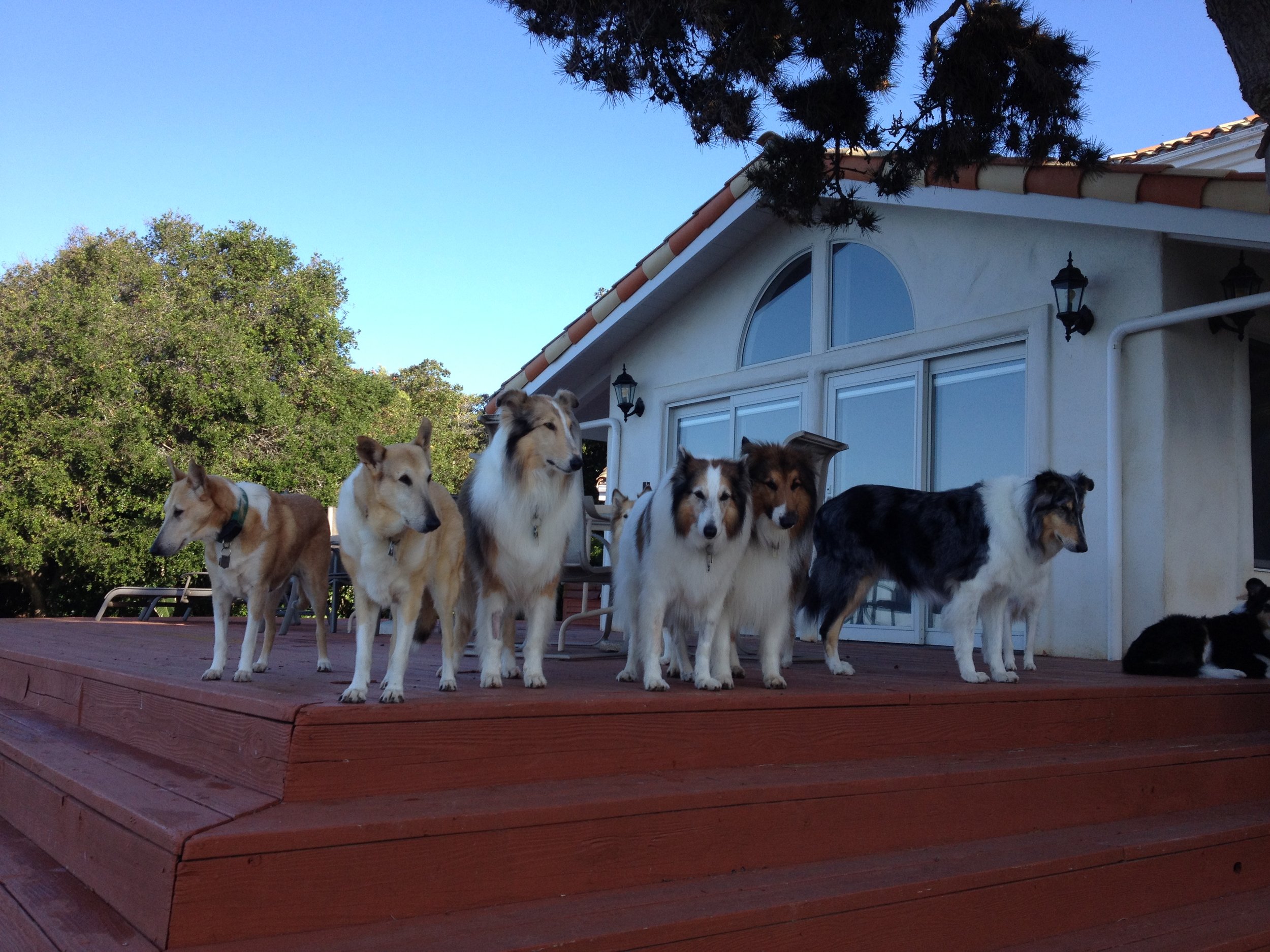 Watch Barking Over
A reality-show parody featuring some of the collies from Southland Collie Rescue (SCR). Created and produced by Jonahtan Reiner.
Support Southland Collie Rescue
By Donating today!